YOUR TOP ROOFERS IN WESTERVILLE, OHIO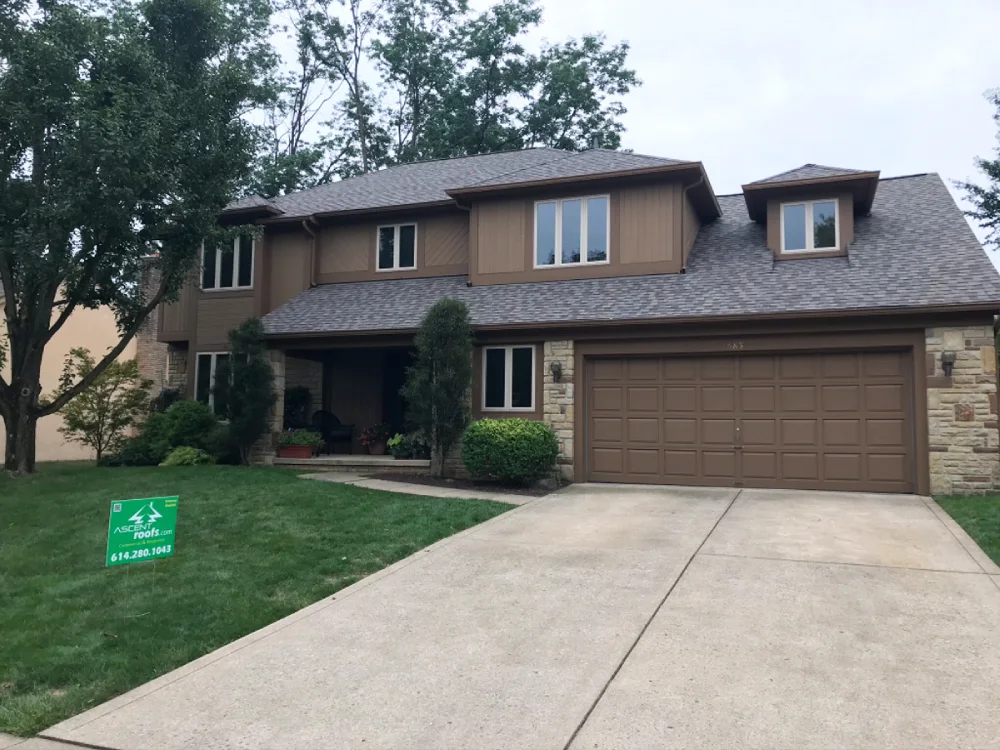 Looking for a Westerville, Ohio roofing company? When it's time for a new roof, you have some major decisions ahead of you. At Ascent Roofing, we make the choices clear and easy by providing you the information you need to make an educated decision that suits your home and budget.
WESTERVILLE, OHIO ROOF REPLACEMENT
A new roof is one of the quickest ways a homeowner can create a curb appeal transformation. Look at this Westerville, Ohio home pictured here. The "before" photo shows what it looked like with an old, deteriorated roof. The "after" photo shows what it looks like after Ascent Roofing installed a new CertainTeed Landmark Pro shingle roof.
Top of the Line CertainTeed Quality: The new look was created using CertainTeed's Landmark Pro Shingle. This is a high-quality shingle that combines the classic look of dimensional asphalt shingle roofing, with the highest quality shingle on the market. These shingles offer an excellent value without sacrificing the high-performance attributes homeowners expect. Landmark Pro is also backed by a limited lifetime warranty.
A New Roof Improves the Value of Your Home: Putting in a new roof adds value to a house and makes it attractive to potential buyers. This is an important consideration if you plan to put your house on the market in the next few years. The value of a new roof on your home can vary widely based on several factors. According to some estimates, a new roof can add between 25 and 40 percent to the value of your home. This means that a $250,000 home can become a $350,000 property simply with the addition of a new roof. It also indicates that the more a home is worth, the more value it stands to gain from a new roof.
Improved Energy Efficiency: Another way that a new roof can add value to your home is by improving the house's energy efficiency. A new roof that has adequate insulation and is made from efficient materials that prevents hot air from escaping as it rises to the attic, reducing your need for home heating. This saves money on heating fuel and helps the environment since you'll use less gas, oil, or electricity to keep your home warm.
WESTERVILLE, OHIO ROOFING MAINTENANCE SERVICES
In addition to replacement services, here at Ascent Roofing Solutions, we provide roof repair and maintenance services. With a dedicated crew for repair and maintenance, we can be sure to get you on the schedule as soon as possible.
Roof Maintenance – This is an incredibly important part of owning a home, but it frequently goes overlooked. Roofs should be routinely inspected and maintained to prolong their lifespan. In fact, regular roof inspections and maintenance can help identity and solve problems before they get even worse.
Roof Repairs – If you have an active leak, missing or lifted shingles or any other damage to your roof, give us a call for a free inspection and quote.
Need to schedule an inspection? Call us at 614-280-1043 today!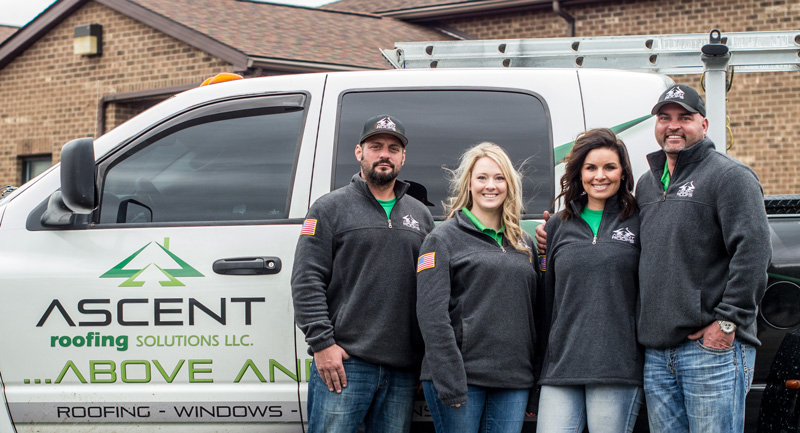 ASCENT Roofing Solutions is highly committed to providing superior service to customers with a goal of 100% customer satisfaction. We are recognized for integrity, reliability, and professional craftsmanship. We work hard to demonstrate pride in all aspects of business and to deliver these services with a positive attitude through ethical and sound business practices. As a veteran owned and operated company we always go above and beyond!